HOME
Chloe's and Sophie's Special Ears Fund aims to 'Brighten the lives of Deaf children'. 
As a charity our main objectives are to:
- Raise Deaf Awareness;

- Enhance the sound acoustics in classrooms and school halls, for deaf children in mainstream schools through specialist equipment and materials.
- Provide resources and equipment to deaf children to support their emotional wellbeing.
We cover the areas of Surrey, Berkshire, Hampshire and areas of London (previously Surrey).

WHAT WE DO AS A CHARITY
We are passionate about raising deaf awareness in the local community. We do this through:
- Providing deaf awareness sessions in schools, companies, and after school clubs;
- Providing deaf awareness story resources to schools, pre-schools and nurseries;
- Providing schools, scouts, rainbows, beavers, brownies and local businesses with deaf
awareness posters;
- Hosting Deaf Awareness Workshops four times a year;
- Visit local schools to give FREE Deaf Awareness story books to school children. Every child gets to choose a book of their choice and keep it.
To improve the sound acoustics we can:
- Provide Sound Clouds in school halls and/or classrooms;
- Provide hessian for the back of noticeboards;
- Provide thick pile rugs;
- Provide radio aids, soundfield systems and more to improve the sound with technology.
Provide resources and equipment to Deaf Children to support their emotional wellbeing. We do this through:
- Have a Toy Like Me, a small plush teddy with Hearing Aid, Baha or Cochlear Implants;
- Provide suitable riding bike helmets;
- Deaf Friendly Swimming Lessons;
- Cochlear Implant Aqua Covers;
- Parents access and funding to learn BSL Level 1 and BSL Level 2;
- Provide vibrating watches and alarm clocks.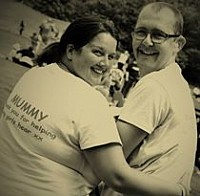 HOW IT ALL BEGAN
Chloe's and Sophie's Special Ears Fund (CSSEF). CSSEF is inspired and motivated by Chloe and Sophie Jackson. Chloe and Sophie are sisters and both live in Aldershot, Hampshire.
When Chloe was 4 years old, her parents (Karen and Brian seen in the photo to the left) went along to a routine yearly hearing test. Chloe's parents were told the words they never thought they would hear, Chloe was deaf. A question mark hung over Sophie's hearing. After being told Sophie could hear on many occasions, her parents were told that Sophie was deaf as well.
Shortly after Chloe started school, her parents found out there was things out there that could help her hear more in the classroom and school.
Initially, CSSEF was a community fund, raising pennies to put hessian and thick pile rugs into Chloe's classroom. A lot of friends and family got behind the Jackson family and with this, on 21st October 2010, CSSEF was founded.
As CSSEF grew, it became apparent to us as a family, that not only Chloe and Sophie would be in need of deaf equipment.  We soon realised that many other children could benefit from what we do as a charity.  With this in mind, we set ourselves a target to raise as much money as possible to apply to be a charity as well as considering what their objectives would be.
On the 15th March 2013, we became a Registered Charity.