DEAF AWARENESS
We are passionate about raising deaf awareness in the local community. We do this by:
- Providing Deaf Awareness sessions in schools, companies, brownies, scouts and more;

- Providing Deaf Awareness Resources to schools, pre-schools and nurseries;
- Hosting Deaf Awareness Workshops in conjunction with Sign for Thoughts, Farnborough;
- Give a Deaf Awareness Story book to all children in local schools. Children get to choose from a selection of titles that we have including 'Dachy's Deaf', 'What the Jackdaw Saw', 'Wonderstruck' and many more. This book is for the child to keep and take home.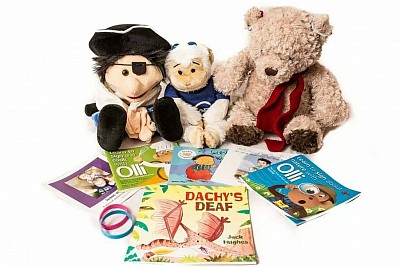 WHAT DEAF AWARENESS RESOURCES DO WE SUPPLY?
A school can request to have a selection of Deaf Awareness Resources provided to them, free of charge. We do work with the school to make a suggestion of quantities required.
Some examples of what you can request are:
- A teddy bear wearing hearing aids
- A Living Puppet with signing hands
- A teddy monkey wearing a cochlear implant
- A mixture of beautifully illustrated children's books on deafness
- BSL reward stickers (British Sign Language)
- BSL Dvds
- British Sign Language Dictionaries
To make a request, simply email Cathy on wishes@cssef.org
DEAF AWARENESS SESSION
Karen, the founder of our charity, would love to come along to your school or company to provide a FREE Deaf Awareness Session.
SCHOOLS
We can provide a presentation designed for child engagement. These last roughly 30 minutes per classroom. We use a lot of interaction from the children and make it as fun and informative as possible.
We cover:
- Who they know that is deaf;
- Different types of deafness;
- Fingerspelling the alphabet;
- How to communicate to a deaf person;
- We also do a show and tell using real hearing aids and gadgets that help a deaf person in the home or in school.
COMPANY'S
We can provide a workplace Deaf Awareness Session and suggest that this would take 2-3 hours. We would fund a local company, Sign for Thoughts, to come to your workplace to do this. Their sessions include statistics, communication skills, lipreading challenges and more.
To book your Deaf Awareness Session, simply email karenjackson@cssef.org