Meet the Team at Chloe's and Sophie's Special Ears Fund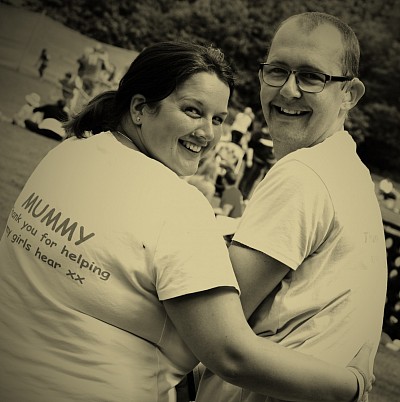 Karen Jackson (Chair/Trustee/Founder)
Mum to Chloe and Sophie from CSSEF
Contact Karen - karenjackson@cssef.org
Brian Jackson (Trustee/Founder)
Dad to Chloe and Sophie from CSSEF.
Contact Brian - trustees@cssef.org
Martin Jackson (Treasurer/Trustee)
Grandad to Chloe and Sophie from CSSEF.
Often found in Just4Kids testing the battery operated toys.
As a treasurer, Martin, ensures that all of the paperwork is in order. He is a real 'treasure' at our Book Keeping.
Martin is also one of our Trustees. He ensures that all Wishes Form Applications are within our Charity Objectives and gives great support to our team of volunteers.
Jen Jackson (Committee Member)
Nanny to Chloe and Sophie from CSSEF.
Often found in Just4Kids checking the toys and puzzle are complete. Jen also comes up with lots of ideas that help the charity run smoothly. Jen also goes out to lots of our charity events and supports many of our volunteers.
CURRENT VACANCIES
Finance and Administration Officer - 20 hours per week
Salary £21,294 per annum, pro rata £10,952
5.6 weeks holiday and pension scheme. 
Based in our charity office in Badshot Lea, Farnham Surrey. 
Chloe's and Sophie's Special Ears Fund is looking for the next person to join their team.  As our charity grows, we are looking for someone to work closely with our CEO to undertake administrative tasks to support the CEO in the day to day running of the charity.  
To succeed you'll need to be a confident and highly-organised finance and administration officer, with excellent communication skills, knowledge of key digital platforms (e.g. Word, Excel, PowerPoint), plus outstanding attention to detail. You are likely to have some existing experience in a similar role, which demonstrates your ability to process complex information accurately and efficiently, while successfully prioritising a fast-paced workload – finding time to deal with short-notice deadlines alongside longer-term projects. You'll be someone who enjoys working at the heart of a highly motivated, close-knit team that is looking to grow and diversify in the coming years. As such, you'll have an eye for potential improvements in administrative systems – and not be afraid to propose them – while also being able to build positive and trusting relationships with a full range of colleagues in high-value.  

Applications close on 18th June 2021.  Interviews will take place within 2 weeks of the closing date.
To request a job description or to ask for more information, please email our CEO on karenjackson@cssef.org

To apply for the position, please send your CV and a covering letter to our CEO on email to karenjackson@cssef.org